What an unexpectedly wonderful week this has been! I've written before about how important it is to have a good support network behind you when you're working towards any goal – actually, it's important to have a good support network even when you're not working towards a goal! And over the past week, I have been inundated with support from all different areas. And wow, does it make a difference!

First, I was so honored and touched to be listed on Kim from Day With KT's list of the blogs she reads daily. I mean, I already knew she read my blog daily because she almost always leaves a comment (Hi, Kim!), but it's such a great feeling to know that people are reading and enjoying what you write. So thank you to Kim and all my other friends who are kind enough to read and leave comments!
I also had an influx of new likes on my Facebook page, from other bloggers as well as some likes from Facebook pages set up specifically to share running news and tips and stories. I love finding new blogs and reading race recaps and running stories, so it's been fun to check out all the new likes!
Over the weekend, Fran decided to join me on my planned easy run. We took Roman to the playground, popped him in the stroller when he had almost tuckered himself out, then we went for a run! We did 2.5 miles with me pushing a sleeping Roman, then Fran took him to a cafe while I did another 2.5 miles.
I am SO PROUD of Fran for running. He hasn't worked out for a while and I know every step of those 2.5 miles was tough for him. He didn't bitch or complain once and he even ran the majority of the big hill that was part of our loop. Having my boys along with me during a run made me so happy.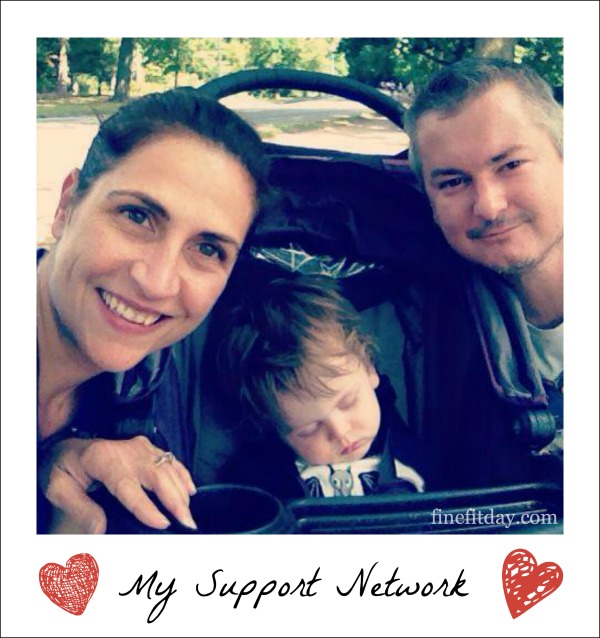 Finally, it's so encouraging to get feedback on my weekly update posts about how marathon training is going. I started writing them more to keep a visual diary of training so I could look back and realize I was ready when I'm in that last week of training and doubting I can do it. So the fact that you guys are reading them and enjoying them AND leaving me lovely comments on Facebook and Twitter and the posts means so much to me! I really do feel like I have a support network there behind me and it makes a big difference. I am feeling the love! Thank you!

What's happened this week that you're grateful for?
Who is your favorite running buddy?
Who's in your support network?