Meet Wendy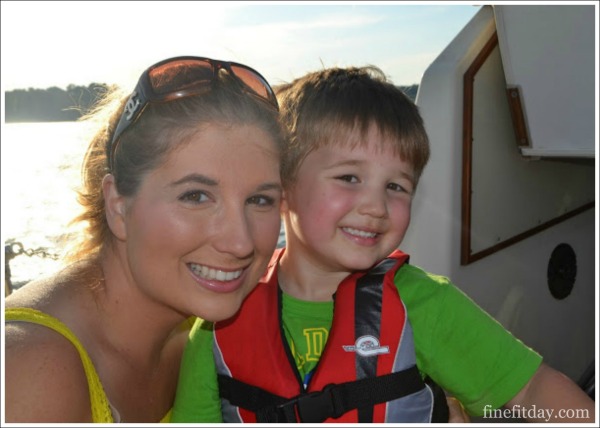 Today's Fit Mama Friday is Wendy Del Signore, proud mama to Caleb, who is 3 and a half, and married to Ryan for a little over 5 years. Where do I even start when introducing you to Wendy? Her story has it all – she's a licensed boat captain. She's a blogger at Daily Dose of Del Signore. She's lost over 75 pounds (on her way to 100!). She's overcome major health issues. Her weight loss journey was put on hold by a natural disaster… Here's Wendy's Fit Mama Friday story!
So Wendy, you're a boat captain! That's so awesome. Tell me more about your job.
I absolutely adore my job! I've been in the marine industry for over 13 years and am fortunate to work with my father, husband, and brother. I am an office manager at a large marina on the Tennessee River and yes, I am a licensed boat captain. I mostly sit behind a computer, but I am passionate about meeting boaters and selling boats.
Tell me a little of your 'fitness back story'. Were you fit prior to getting pregnant with Caleb?
I was fit prior to marrying my husband. I slowly gained weight over the years, and then got pregnant. I thought pregnancy gave me an "All You Can Eat" pass, so I did.
What about exercise – did you work out while pregnant?
Nope! I was too busy eating and being hormonal! My third trimester was especially rough because I did not care for my body before or during pregnancy. I suffered from severe acid reflux and daily heartburn, swelling, and dizzy spells. My baby grew quick and I was considered high risk in my third trimester. His size caused me to have dizzy spells and I stayed dehydrated. I was hospitalized around 26 weeks to monitor both of us for 24 hours. Finally, they induced labor at 37.5 weeks. I had a miserable 21 hours of labor and then a C-Section.
I feel as though things would have been a lot easier for me had I committed to eating properly and staying active. My body went through so much during the pregnancy and I gained 40 pounds. After Caleb was born, I threw myself into caring for him and learning how to be a mother. I forgot to take care of myself along the way.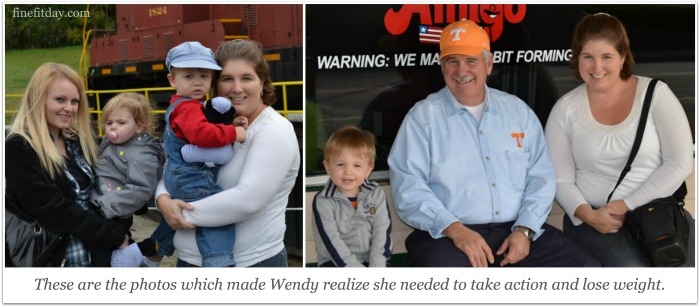 So what was it that made you realize you needed to take care of yourself and regain your health?
I didn't get a wake up call until Caleb was two years old. But I owe every single bit of my weight loss to him. On November 12, 2011, we celebrated his second birthday by spending the day with our families at a local railroad museum. When I got home, I started going through all the pictures. That was the very moment I realized that I was done with it all. I was beyond devastated that I was actually balancing my son on my fat roll in pictures.
I was sitting on the sidelines of my life watching my little boy grow up. I wanted to be an active part of his life, not just standing behind the camera taking pictures. I wanted to run and play with my little boy, not be too exhausted and sitting in the recliner in the evenings. I was missing being a part of his childhood and that was enough to make me take control of my life.
And what's it like now that you're so fit and active, being a mama?
I can play with my little boy! I can run, jump, roll around in the floor, and chase him without feeling like I am going to die! I have a much better attitude towards life. I'm more energetic and we get to do more together! I'm not sitting in a chair with back problems. I'm out in the yard playing football or soccer.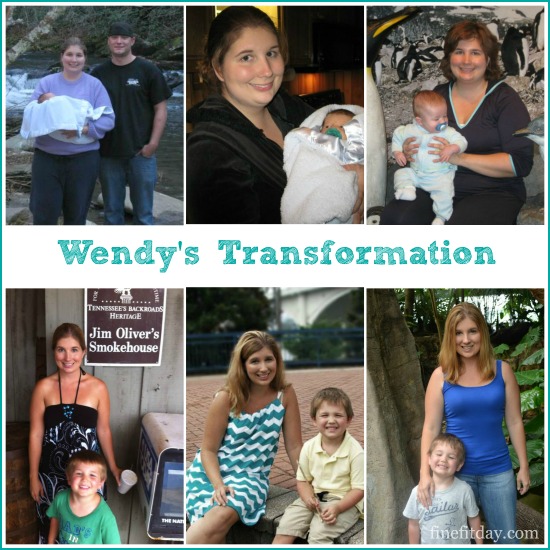 So, I know that your entire weight loss story is on your blog (check out Wendy's weight loss timeline here) but can you briefly describe how you went about making major lifestyle changes to lose weight?
It all started when I was approached by Sensa to try two months of their products and blog about it. I started their program on December 26, 2011. At that time I started looking at everything I was eating. Sense really decreased my appetite which was helpful since I loved to pig out on unhealthy foods. By January 4, 2012, I had lost 16 pounds with Sensa and having been eating healthy for two months. I started to see my health problems decrease and I began drinking more water. Soon afterward, I finally gathered the courage to show everyone on my blog. My before pictures have motivated me when I have plateaued.  I also discovered that so many of people were pulling for me! It was so humiliating to show how out of control things were for me, but it was also the most freeing thing I had done. I allowed myself to see reality.
By the end of January, I had reached my pre-pregnancy weight! I never thought I would achieve that. I had given up hope and I was just amazed when it finally happened. At the end of February, I had lost 27 pounds. My Sensa experiment was over and I was scared that I couldn't do it without the products. I had almost reached my half way mark. March 1, 2012, my family took so many pictures at the marina I work for. I was so proud of my progress and thrilled to see pictures of me with my son that I didn't cringe over. Little did I know that my weight loss journey would be put on hold the very next day.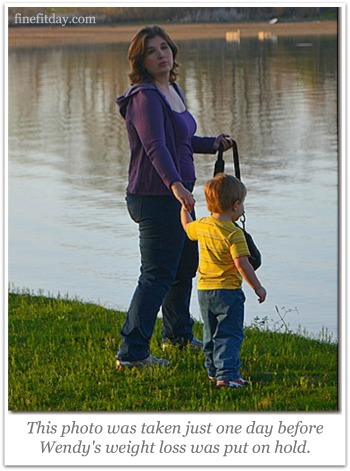 What happened??
On Friday, March 2, 2012, my whole life was completely turned upside down. The marina my family works for was hit by an EF3 tornado. For the next three weeks, we worked non-stop without a day off. Our lives were filled with clean up efforts and any attempt to return to normal. I have never been through a more traumatic period in my life.
I'm so sorry you went through that! It must have been traumatic. When were you able to focus again on your health and weight loss?
Due to the stress and my insane emotional eating, I didn't officially reach my half way mark until April 20, 2012. I was simply watching everything I ate to lose this weight. After this halfway point, I did go through a period of weight loss plateau, which I broke by counting my calories and staggering them. I would eat 1,200 calories one day, then I would jump up to about 1,600 the next. It kept my body from getting used to the same intake each day and it worked.
Now that I am eating healthier, I cook mostly at home. I try to stay away from additives and preservatives. When we do eat out, I use My Fitness Pal to search for meals that have calories within my goals. I try to eat one huge salad a day for one meal. I used to hate salads, but now I crave them!
Along with your eating habits, you're also fit, too – can you share your exercise routine?
I do two to four hours of Zumba each week (which I am completely addicted to). There's nothing better to me than completing two hours of Zumba. When I walk out, I have a Zumba high! It's an adrenaline rush that makes me feel like I can conquer the world.
I have also rediscovered my love of running! I can actually run now without feeling like I'm going to die! It feels so empowering to know that I am no longer held back from doing the things I enjoy. I'm always in awe of what my body can actually do now.
And what's your workout schedule like for the week? How do you split up your workouts?
Monday evenings – 2 hours of Zumba, Tuesday – we walk at the track for 30 minutes to an hour while my son rides his bike, Wednesday - My husband and I walk/jog at the track for 1.5 hours, Thursday – 2 hours of Zumba, Friday and Saturday – we relax on our boat and spend time swimming, Sunday is our rest day!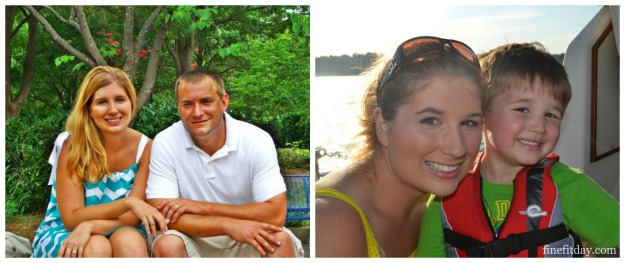 As well as being a mama, you work full-time outside of the home. Does that make it challenging to keep up with your fitness routine?
In the summer, I work anywhere from 50-55 hours per week. It's hard rushing from work to Zumba while juggling being a mom and running a household. Sometimes it feels overwhelming, but I know that I have abused my body long enough. My husband and my parents has been wonderful and stepped up to help me more so that I could workout. My husband has been pushing me to keep it up for the past month and I just really appreciate him for believing in me. He totally gets it!
My husband and son are both very active guys. We can get the energy out now by doing things together. We are healthier and happier now as a family! My husband lifts weights now and it working on his goals right along side of me. It's nice having someone so supportive to keep you accountable.
Has your weight loss affected more than the way you feel about yourself and what you're able to accomplish daily? Have there been any general health related effects?
I had many health problems when I first started losing weight. I had daily heartburn (I vomited stomach acid and once blood came with it), I had a hiatal hernia, three compressed discs in my lower back, severe swelling in my legs, ankles and feet, gallbladder failure (I had to have surgery to remove it), I had issues with my back almost weekly and I suffered from depression and anxiety. Since losing weight, I no longer experience any of these health issues. I was able to come off all medications with my doctor's help.
That's amazing! As someone who set a big goal and completed it, you must have new goals lined up so you are constantly challenged – what are you working towards next?
I have lost 76 pounds, 50.5 inches overall so far. I've gone from a size 18 to a comfy size 10 (almost 8)! In my waist alone, I have lost 12 inches! Now, I am looking to hit 100 pounds lost overall. That's my number than I'm shooting for. I never imagined I could meet my original weight loss goal (60 pounds), but once I passed it I knew I could aim for greater things!
I want to try to run 5K's and I want to see my one mile run back down to 6:53. I haven't done that since I ran track in high school! I am running my very first Color Run in November!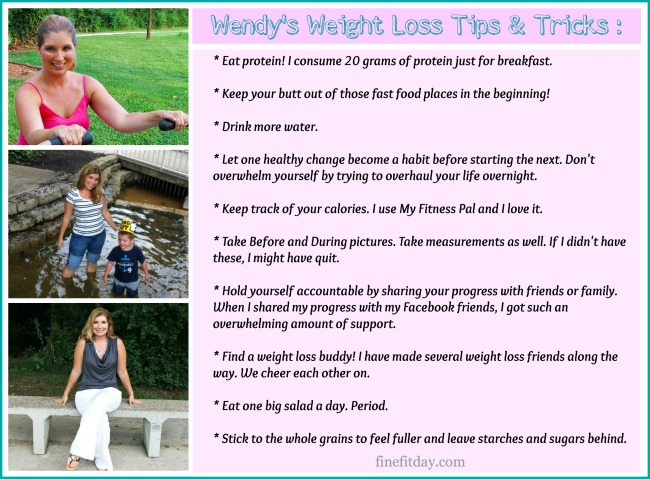 Wendy, thank you SO much for being featured on Fit Mama Friday! What an amazing transformation you have made and I can tell by your photos you are glowing with health and happiness now. I hope everyone checks out your blog, Daily Dose of Del Signore to follow your progress. Congratulations!
Do you want to be featured on Fit Mama Friday? Or do you know someone you'd like to see featured? Please contact me for details!