One of my least favorite gimmicks out there in the hugely lucrative weight loss market is the juice cleanse.
Quick Fix!   Magic Pill!   The Solution to Your Weight Loss Problems! 
Instead of relying on our bodies, which are already able to 'cleanse' and 'rid the body of toxins', we are being sold this magic cure that helps detox us. OR, you could eat whole, natural, organic foods. But that's not as slickly packaged and attractive.
So this week on Working (Out) Mama on The Stir, I'm writing about The Truth About Juice Cleanses.
Don't forget, you still have a couple of days left to enter my giveaway of the Women's Health & FEED limited edition tote plus goodies! The RUN10FEED10 10k race in New York is this Sunday – we will be away, but it looks like it's going to be a good time.
Also this weekend, on Saturday, is another great race in Prospect Park, Brooklyn, a 5K for the Big Brothers Big Sisters of NYC. This is an awesome organization – check out their mission statement:
Our mission is to provide children facing adversity in New York City with strong and enduring, professionally supported 1-to-1 mentoring relationships with adults that change their lives for the better, forever. We partner with families, volunteers, organizations and the community to inspire positive change in all. 
I was happy to share this on my Facebook page – hopefully they get a great turnout and raise a lot of money!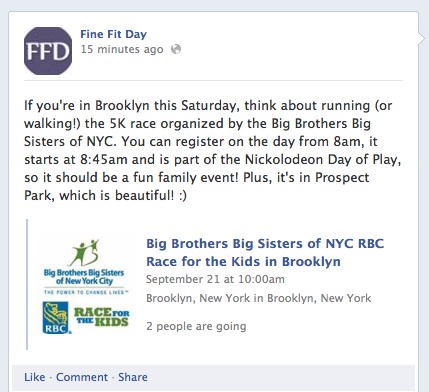 Have you done a juice cleanse? Do you believe the hype?
How many juice cleanse fanatics do you think will get angry at me in the comments on The Stir?

Anyone got fun weekend race plans?