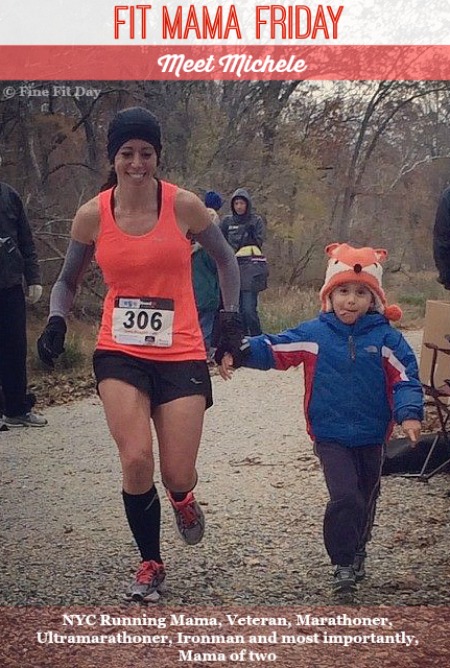 Today on Fit Mama Friday, I'm featuring Michele Gonzalez, whom many of you may know as NYC Running Mama. Married to her husband Paul and a SAHM to two gorgeous boys, AJ, 4 years old and Ryan, 2 years old, Michele is a talented and dedicated runner – right now she's training for the Boston Marathon. Being able to gut out tough training is probably helped by her past career, as a Captain in the US Army. After graduating from West Point, Michele served three deployments in Iraq, which is actually where her love of running began. (And in my opinion, if you're going to fall in love with running in 120 degree heat, it's probably going to be a life-long passion!). I've met and chatted with Michele in real life on a couple of occasions and she is just as lovely and down-to-earth as you might imagine from reading her blog and her articles for Competitor and Women's Running.
Meet Michele.
Michele, tell me about your running history. It was something you discovered you loved as an adult, right?
I've always been active and into sports since I was a young girl. From the time I was in the 5th grade through part of college, I was a member of my school's basketball team. Running is a huge part of the sport, so I was familiar with it – but it was merely a way for me to stay active for basketball season.
I attended and graduated from West Point after high school. During that time (and my six years in the active army), running was mostly something that I had to do. We had a twice-yearly physical fitness test that we were required to take – and pass – which included a 2-mile run.
I signed up and ran my first marathon (also my first race) while a student at West Point. I did it as a way to get into shape for graduation and my ensuing years as an Officer in the Army. It wasn't until several years later, during my second deployment, where I really developed a true love for running.
Since then, running has gone from something I needed or had to do, to something that I love to do. It has become is a part of who I am. I ran during both pregnancies – up until the day before I was in labor (both times).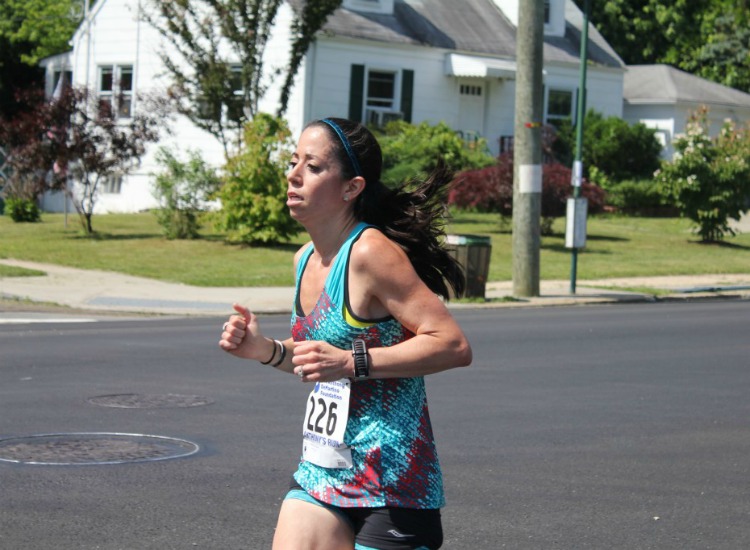 What was it really like running in Iraq? Was it unbearably hot? Did you and your running partners have to run in full gear for safety, or were you running on your base & able to wear regular running clothes? 
Running in Iraq presented some challenges that I had never experienced before.
Heat during summer – the warmest I ran in was 120 degrees
Dust Storms – these would sometimes last 2-3 days. I would usually head to the treadmill because there were days where you couldn't see anything in front of you)
Constant dust/dirt – the roads were not paved – they were just dirt roads so I would usually be covered in dirt after a run because of the cars and trucks kicking it up
We were not allowed to wear civilian clothes – only army-issued gear, so my running clothes were my physical training clothes (shorts and t-shirt). I did not have to wear any safety gear while running (except a reflective belt) but had to remain aware of indirect fire warnings in case our base was hit.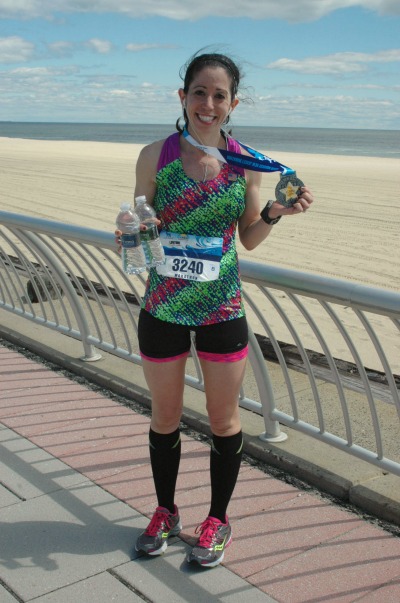 You're currently training for Boston – do you have a time goal? Are you going for a PR? 
I am training for a PR, but my goal time is not decided yet. I am a big believer in letting the training decide what race day goals will be. I will likely be shooting for sub-3:15, but the next few weeks will determine the exact time and pace.
What was your ultra marathon experience like? Do you think there's another one in your future?
I think that ultra marathons are going to become my race distance of choice in the years to come, when I have more time to train. Training for my first 60K was both exciting and eye opening. I found that I enjoyed longer, slower runs where pace was irrelevant and I could just run for hours and hours (my longest training run was 30 miles).
What's your running routine like these days, as a full-time stay at home mama? I know from seeing your gorgeous sunrise photos on your Instagram that you mainly run early. What's your workout schedule?
These days, I run six days a week. I make an effort to do some core and strength work a few times a week and try to get on the bike one to two times as well.
Being a stay at home mom has its advantages – one of them being that I have some flexibility with running. I try to do most of my running early in the morning before the day really begins, but if I sleep in or decide to postpone the run until later, I am able to get on our treadmill while my boys play or watch TV.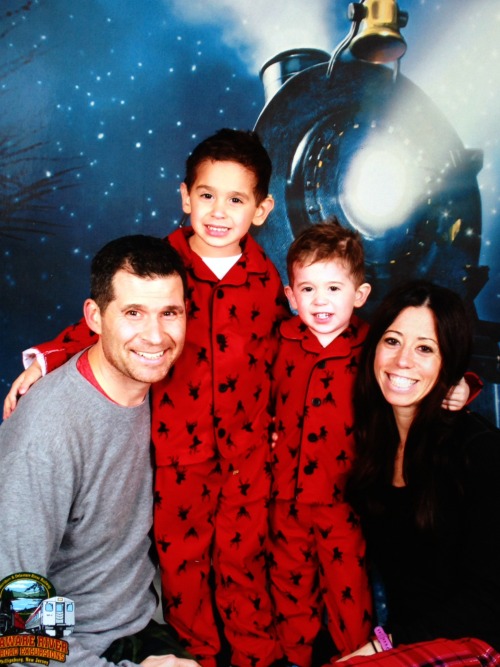 Thank you so much for being part of Fit Mama Friday, Michele! You are one amazing fit mama – I am in awe.

Good luck in Boston, I will be tracking you on the day (unless I am in labor!)
---
Fit Mama Friday – Fit Dad Friday
Every Friday on Fine Fit Day I feature a Fit Mama or a Fit Dad story of how and why a fit and healthy mama or dad ensures fitness is a priority in her or his life. You'll read about all kinds of parents and their fitness stories. Some are stay-at-home parents, some are single parents, some juggle more than one job on top of parenthood, but they are all committed to a fit and healthy lifestyle. As you're getting ready for your weekend, I hope you're inspired to be active after reading about these kick-ass mamas and dads on Fit Mama Friday – Fit Dad Friday!
Do you want to be featured on
Fit Mama Friday
? Or do you know someone you'd like to see featured? Please 
contact me
 for details!