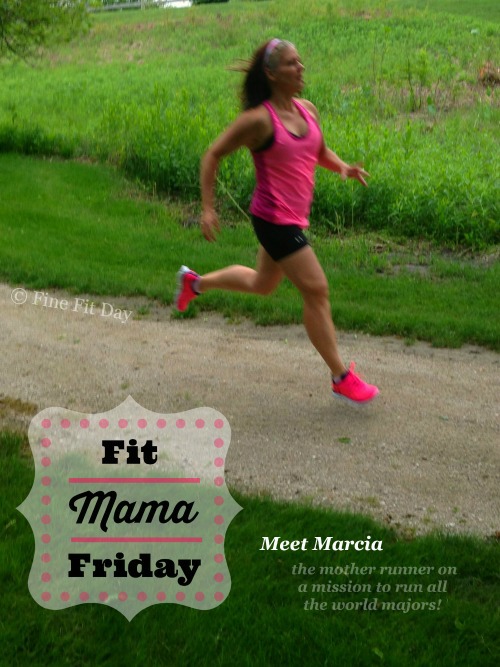 Today on Fit Mama Friday, I'm featuring Marcia, the fit mama behind Marcia's Healthy Slice.  Marcia is a fit, running mama (on a quest to run all the World Marathon majors!), an RRCA Running Coach, a writer and a figure skating coach. Needless to say, this fit mom is setting an awesome example for her two daughters, Thing 1, age 13, and Thing 2, age 9. I had no idea, though, of the painful struggle Marcia and her husband, the Caveman had gone through prior to having their first daughter. I'm glad she chose to share her story with us today.
Meet Marcia.
What's the best thing about being a fit mama?
Being fit has kept me "young"  in body, mind and spirit, and I feel very capable of keeping up with my kids. I am proud to say both of them are running 5Ks with me now and we are entertaining the thought of a family "mini" triathlon, if I can get this swim thing figured out!
You have two daughters, age 13 and 9 – how important is it to you that they know mom is fit and strong, rather than being focused on weight and the way their bodies look? 
This is very important. And it's one of the many reasons I love running. Because it can be objectively quantified by a clock, versus how you look. Here at home we focus on celebrating what the body can do rather than how it looks.
Did you work out during your pregnancies with both girls?
Before the births of our two daughters, we went through years of stress and sadness dealing with infant loss and recurring, unexplained miscarriage. Through the ups and downs of being pregnant then not, coupled with surgeries, meds and depression, I gained 40 pounds.
It wasn't until we decided to stop trying to conceive that I hit the gym and began strength training. I lost 30 pounds and felt great. At that point I started running, just a few miles at a time, and the remaining 10 came off. Soon after we found a new doctor, got some long-awaited answers and were pregnant in the first month. Because I was considered "high risk" I did not work out through either of my pregnancies.
I'm so sorry you went through that. I can only imagine how horrible that must have been for both of you.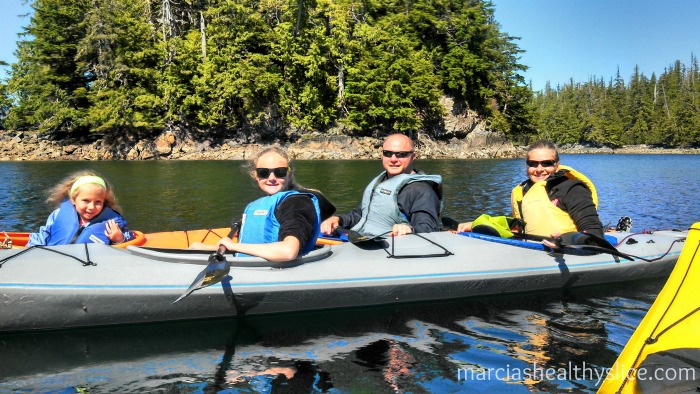 You qualified for Boston at your second marathon – did you have any idea this was a possibility as you went through training? Or was it a total shock when you realized?
Qualifying for Boston was not an original goal of mine. I'm typically guilty of setting the bar too low and setting conservative goals I know I can achieve. But as I trained for my second marathon, I realized that my paces for most of my runs were on track for a BQ. I started that race knowing a BQ was a remote possibility but just took each mile as it came and tried to maintain a consistent pace. It wasn't until mile 22 that I realized the BQ was mine if I could just hold on.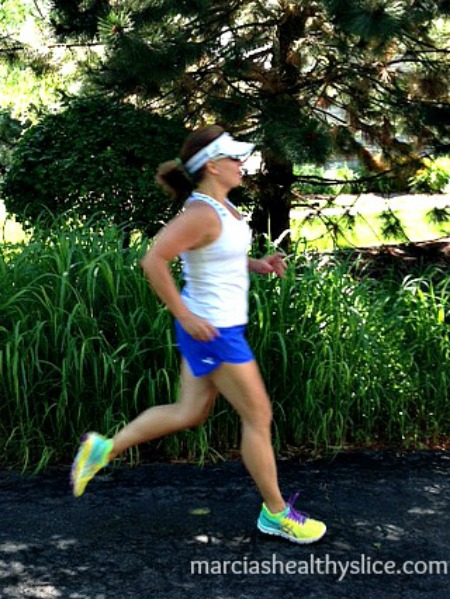 That must have been an amazing feeling! What's your favorite distance to race? And what's been your best experience of that distance – was it a PR race? Or just an awesome run?
The distance I am most competitive at is 5K. I'm a fast twitch girl and sprinting will always come easier to me. That said, my favorite distance is probably the half marathon. It's more challenging for me and requires more commitment training-wise but at the same time I feel a greater sense of accomplishment after completing one. My best experience was when I set my half PR six days after running the Chicago Marathon. Never in my wildest did I ever think I had a PR in me so soon after a marathon. We're all capable of so much more than we realize.
I love seeing your Instagram photos of you kicking butt in the gym. How important is strength training for your running? Has it always been part of your routine?
I was a gym rat before I was a runner so strength training played a large role in my routine when I started running. I hate to say it, but as I've increased mileage some of my focus on strength slipped away. It's only been since finishing the NYC Marathon in November that I've renewed my focus on strength and I hope it pays off as I ramp up running next month.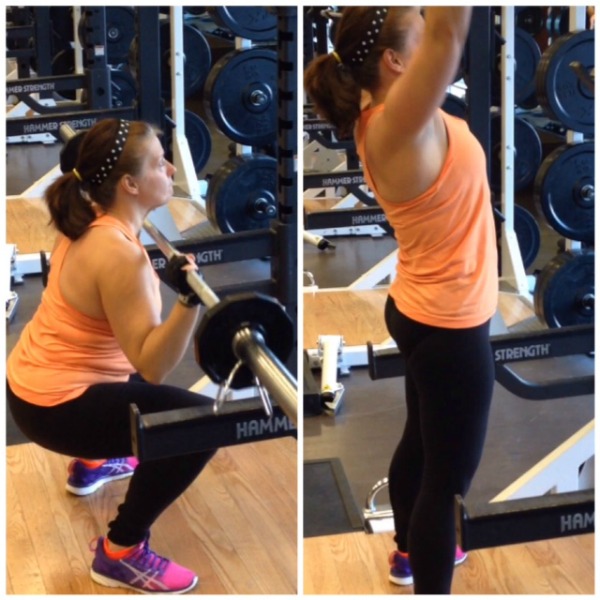 What's your current routine like, in terms of workouts and running?
Now, I run 3-4x/week, strength train 2-3x/week, swim 2-3x/week (because I'm taking on my first tri this year) and sneak in a yoga session or two as well.
Wow, tackling a triathlon! That's so exciting! What else do you have lined up for this year, in terms of goals? (It's never just one event, right?)

As well as my first tri in June, goals for the year include a bunch of destination half marathons. My long-term goal is to finish up the Marathon Majors. I've got Chicago, Boston and New York done. Now I need to get to Europe for London and Berlin.
Marcia, thanks so much for being part of Fit Mama Friday! I'm looking forward to following your swimming progress in preparation for your tri and of course reading race recaps this year. 
Fit Mama Friday – Fit Dad Friday
Every Friday on Fine Fit Day I feature a Fit Mama or a Fit Dad story of how and why a fit and healthy mama or dad ensures fitness is a priority in her or his life. You'll read about all kinds of parents and their fitness stories. Some are stay-at-home parents, some are single parents, some juggle more than one job on top of parenthood, but they are all committed to a fit and healthy lifestyle. As you're getting ready for your weekend, I hope you're inspired to be active after reading about these kick-ass mamas and dads on Fit Mama Friday – Fit Dad Friday!
Do you want to be featured on
Fit Mama Friday
? Or do you know someone you'd like to see featured? Please 
contact me
 for details!