This weekend is our 12th wedding anniversary – I can't believe we've been married for a dozen years!

It doesn't seem so long ago we were walking down the aisle, although given how young Fran and I both look, I guess it is actually very believable.

 I was 24, he was 30. We were babies! If you haven't read the story of how we met, here's the whole backstory of why we had what some might call an accelerated courtship. We decided to get married within 6 weeks of meeting, were engaged within 6 months and got married a little over a year after we first met.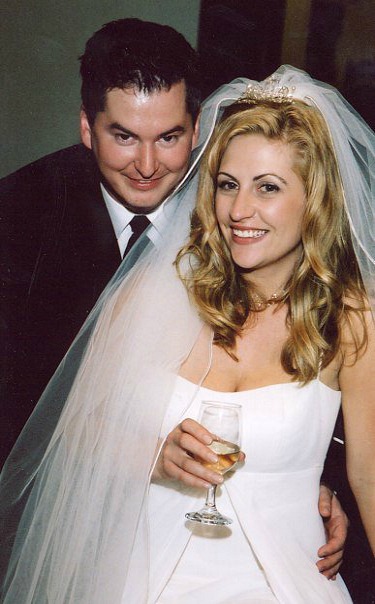 Fran is still my best friend, the love of my life and the person with whom I want to spend the rest of my life. Here are 12 reasons why I think our marriage works so well:
1. We've grown – together. Think back to what you were like 12 years ago. I don't know about you, but I was a totally different person and so was my husband. But we've been best friends and stuck together through so many experiences that as we've changed, we've done it together.
2. We have our own lives. We both have friends the other barely knows, for example. We take turns being at-home parent while the other goes out for a boys' night or a girls' night. For all the experiences we share, we definitely have independent lives as well.
3. We have each other's back in a crisis. I spent every day by Fran's bedside when he was supposed to die (turns out doctors don't know everything – phew!

) When my mum was very sick years ago, Fran was my rock and there for me without fail. When one of us is having a mini-crisis as well, we drop everything to support each other.
4. We decide the important stuff ahead of time. Maybe this doesn't work the same for everyone, but it definitely works for us. When we are making decisions, or about to embark on something important, we discuss the details and how we want to approach it and make sure we're in agreement. When I was pregnant with Roman, we decided ahead of time what kind of parenting approach we wanted to take, how we wanted to raise him and what values we wanted to instill in him as he grew.
5. We ADORE our son (and baby-to-be as well!) but we make sure we have grown-up time, just the two of us, as well. Otherwise, we'll turn around when our kids head off to college and have no idea how to relate to each other.
6. We have shared some of our passions with each other (but we're totally okay with not wanting anything to do with some of them). Fran taught me all about hockey and why it's the greatest sport in the world. He's read just about every book I've recommended to him. I now love big band thanks to his passion. He has an appreciation for IPA beer thanks to me. I'm never going to be a Rush or a Slayer fan and he's never going to run a marathon – and that's cool too.
7. We pay attention to detail. Small details. He will make me a cup of tea whenever I ask and I turn down his side of the bed every night.
8. We get mad at each other. When we irritate the crap out of each other, we express that. It also means we get over it pretty quickly.
9. We share a sense of humor and have tons of inside jokes. In a stressful situation we can break out something guaranteed to make each other laugh.
10. We trust each other – we are never on eggshells or spending time working out the right way to say something.
11. We support each others' dreams and ambitions. Fran is my number one cheerleader when it comes to my running and racing. He's never complained about the hours I've spent training and working out while he watches Roman. I've been there every step of the way when he was in a band, when he got laid off and tried his hand working in a tattoo studio and wine tasting room, among other places.
12. We love each other – and this one is good to have from the start, before you take the plunge and get married, but I can honestly say that the way we love each other has shifted and changed and grown over the 12 years of our marriage.
And let's make it a baker's dozen and throw in number 13: Some of it is just luck. Sometimes you just don't know what life is going to throw at you, or how you're going to grow within a relationship. All of us can look back on friendships or relationships that have soured or ended, for one reason or another. Marriages are no different and I really believe luck has a part to play in having the outcome of a happy relationship.
So cheers to 12 years and here's to many more!