Oh boy, this weekend did not start out well, my friends. For those of you who've been following our cat saga, we got the biopsy results last week and Cassie had cancer. Luckily, it was a type of cancer that didn't metastasize to other tissue, just the tissue in which it was growing. So that was good news…but the bad news was it definitely meant an amputation was our only option.
So Friday morning I dropped my poor little Cassie at the vet for the surgery. I DO NOT like crying in front of anyone, but pretty much the whole vet's office staff was treated to the sight of my tears. I felt so bad that I couldn't explain to Cassie what they had to do and why – I had visions of her waking up from surgery to realize in horror that her paw was gone.
She stayed overnight. We spent Saturday morning doing the usual playground adventures to keep our minds off it.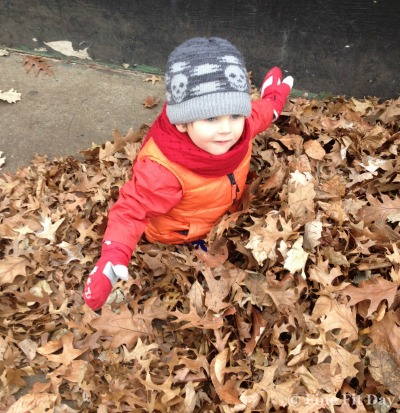 Then Saturday afternoon I went to pick up our kitty. She was so happy to see me and even happier to be home. I am stunned by how quickly she's recovering. She already has a little hop walk down pat and by Sunday she was jumping up and off the bed and couch with little drama. Lots of purring, lots of treats and she's even staying out in the open when Roman is around.
I will spare you a photo of what a newly amputated kitty looks like, but all in all I am just so happy that it really does seem to be an easy transition to three-legged life for our little one. Also, cancer-free, so YAY!
We were supposed to go to our friends Mandy and Gabe's place for dinner and cocktails Saturday night (they're the ones doing the Advent Cocktail Calendar on Mandy's Instagram that I told you about), but a combination of not being able to find a sitter and me kind of wanting to stay home with Cassie meant Fran was lone wolfing it.
Much as I missed this bunch: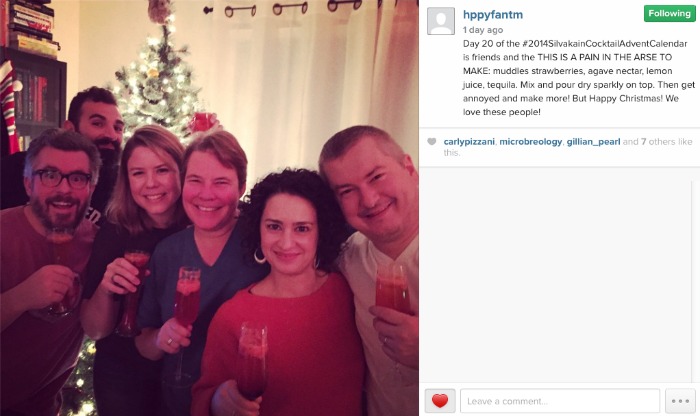 I'm a little bit glad I didn't have to feel cocktail envy in person. It sounds delicious.
I headed to spinning Sunday morning, which felt awesome. I've been having sciatic pain for about a week and a half now and nothing has really helped, not even yoga. But it felt so good after spinning and for the remainder of Sunday. Plus, our instructor was awesome. And all of the other class members tripped over themselves offering to help me get my bike out and  put away, which was so sweet.

(I go to kind of a bare bones gym in that the spin class participants set up for the class, then pack them away again).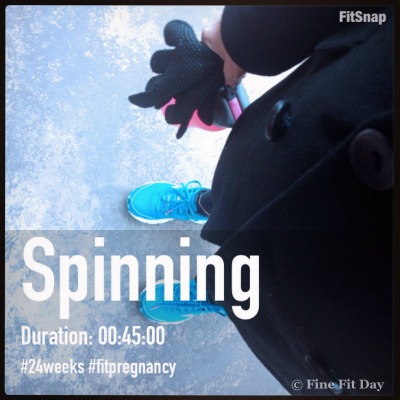 Then I let poor Fran have a long nap (see the cocktail photo, above!) while Roman and I had a little day date. I had a hot chocolate and he had a cupcake and we watched the neighborhood stream by from a window table in a cafe. It was lovely.

A lot more snuggling and loving of our little recovering patient and then my new book (and the first book on my book club's 2015 list) arrived Sunday afternoon. I am SO excited to read this – it was one of my nominations for our list, so I was excited it got voted in…it helped that it was nominated by another member! It's by the same author as Cloud Atlas, which I loved. I didn't see the Cloud Atlas movie and don't really have plans to – I have no idea how they could even try to begin making that into a film.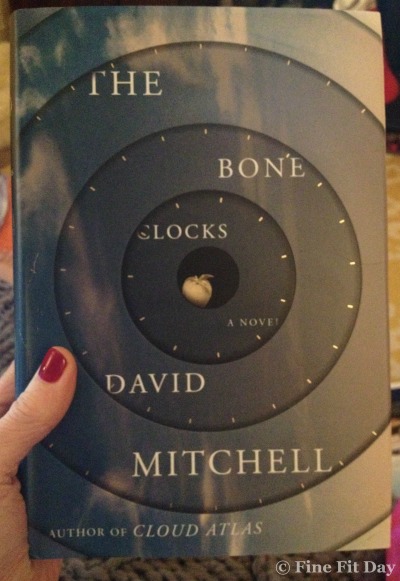 This week I'm finishing up last minute Christmas shopping and plan to listen to the Serial podcast while I'm out running. One of my lovely clients was telling me how much she loved it and that she actually timed her runs around how long each episode goes, so I subscribed.
Elf for Health also finished over the weekend and it was an awesome experience yet again. I was so fortunate to be paired with a really amazing woman as my "elf buddy" for the second half of the challenge. Without giving you details, she has had the epitome of a terrible year and I was just inspired by her strength, resilience, positive attitude and kindness.
How was your weekend?
Whatcha reading/listening to while working out/drinking?
Who's been inspiring you recently?