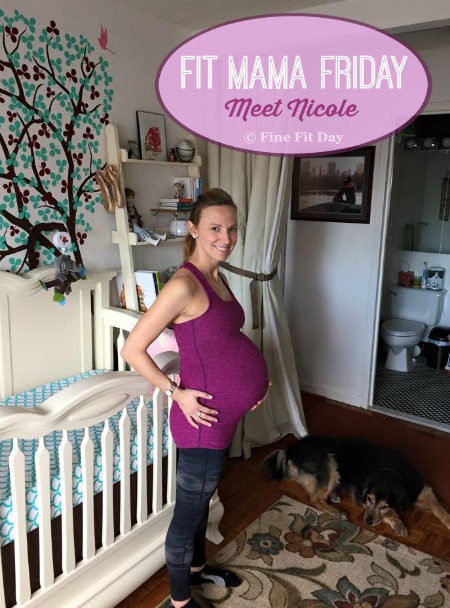 I met today's Fit Mama Friday at a bar. (Who says you don't meet nice people at bars??) Nicole Smith-Goldberg was a friend of a friend at the time and we clicked easily. She's an amazing, educated personal trainer with her own business, Restorative Body; a dancer; a yoga teacher; a holistic yet down-to-earth all around dynamo – and she's pregnant with her first child. Nicole and I are one day apart in our pregnancies and I know she and her husband Brett Goldberg (co-founder of TickPick.com and an avid runner, tennis and soccer player) are eagerly awaiting the arrival of their baby girl. Since Nicole's energy and love for movement and health know no bounds, I wanted to pick her brains on what's working for her during her fit pregnancy.
Meet Nicole.
You have such a holistic approach to your work, with a dance background, yoga and meditation training and now Thai massage as well – how has that translated to the way you treat your own training during your pregnancy? What modifications have you had to make to your workout routine? 
Yes, my approach to fitness has always been quite a holistic one since I have quite a few specialties under my belt. I have always kept a well-rounded workout routine, including throughout my pregnancy, which includes cardio, strength training, Pilates, yoga and meditation.
I do some type of formal exercise for 30 minutes to an hour about five times a week, and am pretty active throughout the day because of my job and lifestyle. As my body changed through the trimesters, I've adjusted what I do to keep myself and my baby safe.
For example, I LOVE to spin, and have done so up until now (I'm week 37) but adjusted my tempos in class to be slower than what I would normally do and always to listen to my body to not overheat or push myself as much as I would when I was not pregnant. The reason I have stopped spinning now is because my hips are widening with all the relaxin hormone running through my body and it doesn't feel good for me to be locked into a set bike pattern due to pain from an old SI injury from college that is acting up. So instead for cardio, I'm walking more and doing the elliptical machine where I can place my feet slightly wider than I normally would.
I have continued strength training throughout but stopped jumping around my fifth or sixth month when it started to feel like too much pressure on my growing womb. Also, as early as the first trimester, I switched my core/Pilates training to prenatal style core training to allow for my abs to be stretched and give space for my growing womb yet to keep my transverse abdominal muscle (deepest core muscle that's good for pushing out the baby) strong.
I went to my normal yoga classes up until I was 7 months pregnant but that's only because I know how to adjust the class to make it prenatal for myself. I recently switched to only prenatal yoga classes now because I want to have a focus on my baby and making labor easier, and to meet other "mom's to be".  Basically though, throughout the pregnancy, I have just tried to listen to my body without my ego attached and have made adjustments accordingly as what felt right.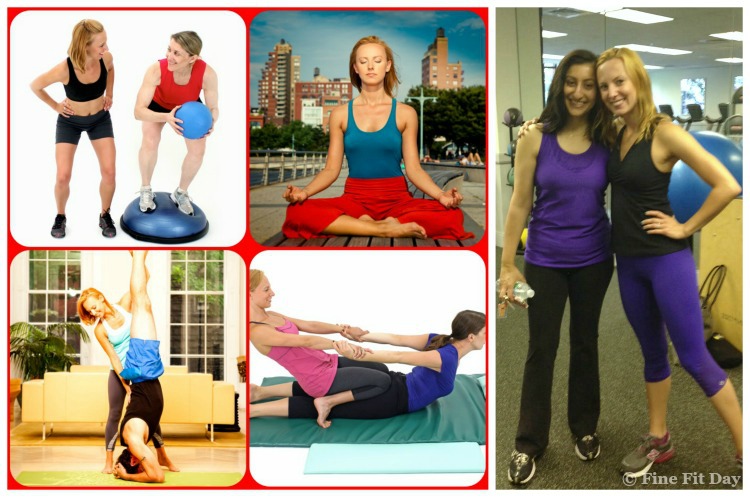 You're a vegetarian – did you have to make any modifications during pregnancy to the way you ate, or did it still work for you? 
I am a vegetarian and have continued to be so even pregnant. There were three times that I craved fish during my first trimester and ate it, but I didn't feel good about it since I don't eat animals for moral purposes. I did some research about the nutrients needed in pregnancy and I realized that I wasn't getting nearly enough protein that I needed (a pregnant woman needs at least 71 grams of protein a day compared to the non-pregnant 46 grams a day for women.) After I realized this, I made some serious adjustments to my diet. I now prioritize making sure that I get adequate protein in each meal (nuts, beans, eggs, etc.) as well as always having a protein shake in the afternoon as a snack. This has made a world of difference for my energy, and all the fish cravings have gone away.
Were you pre and post natal certified as a trainer before getting pregnant? Do you think going through your own pregnancy has affected or changed the way you'd approach pregnant clients' programming in future?
I was pre and post natal certified in personal training and yoga before becoming pregnant but retook my PPN certifications in both personal training and Pilates when I found out I was pregnant to have a refresher, as well as a newer take on my exercise approach.
I think that being pregnant has made me really see how every day can be different for a pregnant woman, and that it's extremely important to adjust accordingly. With this same teaching, it's also important to then realize that even though one day you may feel like crap or in pain, that this not necessarily the new "norm" either so not to get attached to it. When you feel good, exercise with zest, and when you feel more run down, take it easy. With this kind of approach, it allowed me to keep exercising throughout the pregnancy and thus both me and my baby getting all the benefits that comes from it.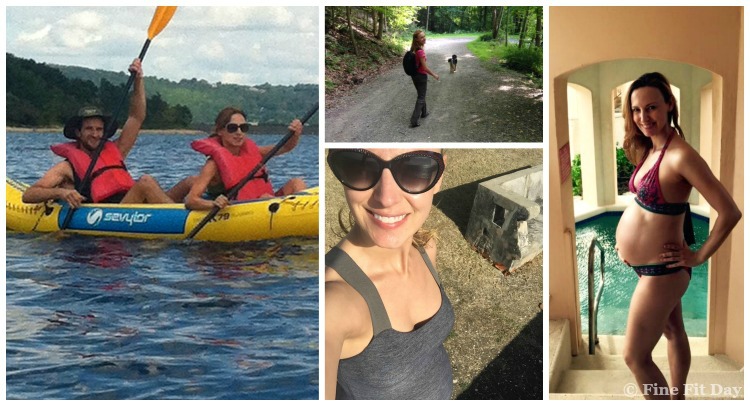 Did you and Brett used to work out together? Or do you still while you're pregnant?
Honestly, Brett and I don't work out together because we like doing different things, and have a hard time keeping up with each other! He's an advanced runner who can run many miles without a blink of an eye, where as I run a mile straight and think that I should be given an award! As for me with weight training, Pilates, and yoga, I am so much more advanced than him that doing the same things just ends up with me doing a beginners training session/class for him and I don't get a workout! I have trained him in the past but he is a bad client who always runs late for his sessions and I ended up dropping him for a paying client who shows up on time!
As for me working out, I have worked out consistently up until last week when my doctor asked me to take a break to help get my muscles as soft and pliable as possible because I need to have an external version to try to flip my breeched baby. All I've done the past week and a half is prenatal yoga class a few times, omitting any abdominal work done in the classes. I've never has such an achy body and low energy as I have had this past week, a true testament to how important a consistent exercise schedule is during pregnancy!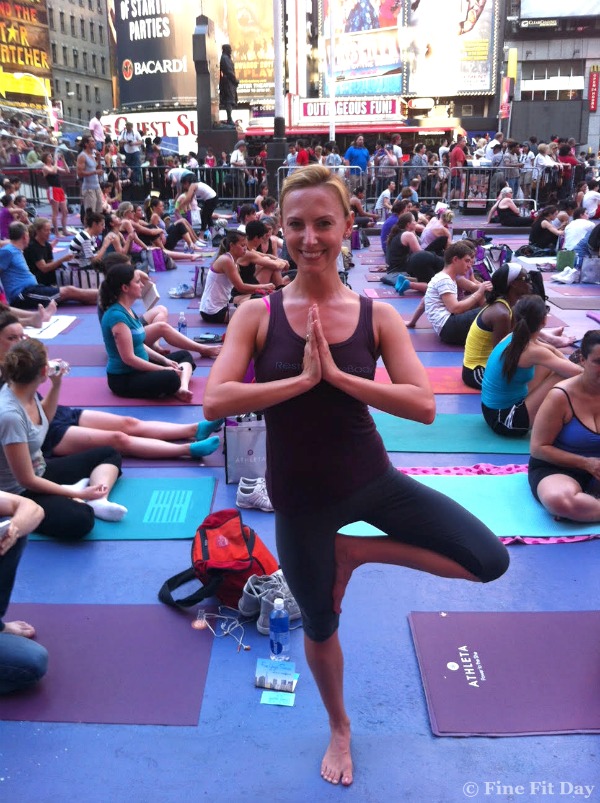 Are there any specific parts of your background/education that you've relied on or used on yourself during pregnancy? For example, do you focus meditation on your pregnancy? Or are there any Thai massage acupressure points you try to manipulate in self-massage?
Being prenatal certified in personal training, yoga and Pilates has definitely influenced how I adapted my exercises and routine. As for meditation, I have started studying with a specialized teacher of Hypnobirthing, which is a meditation training that helps prevent fear and pain during natural childbirth, so we will see how that goes!
As for pressure points, the best thing I was given during my pregnancy was from my acupuncturist friend was little magnets that you put on a specific point inside the wrists. They really help with energy and took away any nausea during my first trimester, and I've now started using them again at the end of my pregnancy to help with fatigue.
Do you have any plans for how you want to ease back into working out postpartum after recovering from birth, or are you just going to see what happens?
Since I am someone who loves to exercise as much as I do, of course I have a plan for getting back into shape afterwards. I truly believe that without a plan it won't happen, but also am very adamant about slowly easing into exercise again after childbirth. My plan will be be modified if I need to have a C-section , but so far here's what I am planning once I have doctor's clearance:
Weeks 1-2: No exercise. Short walks with the baby when I'm feeling up to it.
Weeks 2-4: Longer walks with the baby/dog, start simple stretching yoga and kegel exercises.
Weeks 4-6: Start post natal yoga and Pilates classes, 20-30 min cardio a three times a week, and walks with the baby/dog.
Weeks 6+: Start strength training program (starting slow and building up), cardio classes, and regular yoga (again starting slow and building up).
I love it – a woman with a plan! Thanks so much for being on Fit Mama Friday, Nicole, I loved featuring you and your gorgeous bump!

Can't wait to see your baby daughter!
---
If you want to connect with Nicole, check out her website Restorative Body and find her on Facebook. 
---

Fit Mama Friday – Fit Dad Friday
Every Friday on Fine Fit Day I feature a Fit Mama or a Fit Dad story of how and why a fit and healthy mama or dad ensures fitness is a priority in her or his life. You'll read about all kinds of parents and their fitness stories. Some are stay-at-home parents, some are single parents, some juggle more than one job on top of parenthood, but they are all committed to a fit and healthy lifestyle. As you're getting ready for your weekend, I hope you're inspired to be active after reading about these kick-ass mamas and dads on Fit Mama Friday – Fit Dad Friday!
Do you want to be featured on
Fit Mama Friday
? Or do you know someone you'd like to see featured? Please 
contact me
 for details!